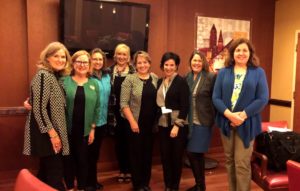 The Woodard Chapter of Cleveland just met for a dinner meeting that hosted Heather Satterly as a guest speaker. I was in awe of hearing yet another story of how Heather came upon QuickBooks accounting services (Her mom is a CPA) and her journey to becoming a national speaker on QuickBooks Online and apps that integrate with QBO. Fascinating peaks along with difficult valleys made her who she is. Invited via Eileen Sass, another rockstar in the Intuit world and certainly the center of this group in the Akron/Cleveland Ohio area, I felt like one of their members. And I enjoyed each and every one of them, including Margo, who I will room with at QuickBooks Connect 2017. This annual event is run by The Woodard Group and is attended by QuickBooks Advisors from around the globe.
The Woodard Group
QuickBooks Connect has that kind of effect on us all. When we journey to San Jose, we meet and greet our dearest friends, our competitors and collaborators. We immerse ourselves in classes, celebrate with get togethers and network from morning until evening. We have first hand information from the Intuit developers who empower us with current and future insight on what is trending in Mountainview, CA (Headquarters of Intuit and just down the block from San Jose). I wouldn't miss out in one respect if I didn't hop on a plane. Every session and the keynote speakers are streamed globally to all of the other QuickBooks advisors. What I would miss are the coffees, side meetings and opportunities to work with other great advisors. It truly is a reunion that we all look forward to.
The OHSCPA Group
When I was in Cleveland, I also attended the Ohio Society of CPAs show. Break out sessions, lunch and vendor booths were all there. Eileen puts her heart and soul into this event and it shows. So many people gathered to learn more about topics such as "Closing the Books", "The Role of Lean Sigma in Developing High Performance Organizations" and the like. All great information and all great speakers. But the best part of going was meeting Eileen's friends and chapter members. They are an amazing group of women in the accounting profession and they give to each other a sense of belonging. Some have their own practice, others have employees and some work alongside of them providing payroll and insurance services. But, what I loved was their give and take attitude. Sister power!