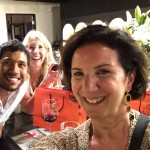 No, I'm not talking about me and my new tan and springy step after a week in Mexico. I'm talking about the new look of the TSheets Time Tracking web dashboard, online time tracking at it's best. Did I ever look at their former dashboard and say to myself, "Wow, I think they need a new look, even though I love what they offer?" Anything that offers such a valuable service with all of the right features tends not to be scrutinized   – yes, that includes me without my tan –  but OH MY, when it comes along with bright colors and a better layout, you are BOUND to fall in love all over again.
TSheets came into my life just when all of us at Technology In A Box needed a method for tracking time. It was web-based, and could  be accessed through a variety of ways (iPhone, Android, Mobile Web, Dial In, Text, Twitter and the designated company URL). Easy to use and accessible to all was all I needed to get everyone started on what has become my #1 rated time tracking app on the planet and I'm not the only one saying it!
That wasn't the half of it. The more I got to know the team, the more I knew that I hadn't felt so enthused and engaged since I first ran a memorized report on QuickBooks and had the whole world at my fingertips. It was liberating! I had a taste of how wonderful the program was, but when I met the people, that was it. From the customer experience team (Heather, you are my hero), the media crew (Kelsie, Victoria and Lisa, love them like sisters), the leaders of the TSheets ProAdvisors (Kelly and Jennifer, you complete me) to the top leaders (Matt, Matt, Robin, Amy and others), they all shine brightly in my world and gave me the experience of a lifetime with developing the certification. They have a development team that could rewire the world if given that mission and they just know how to onboard more team members with the same fantastic qualities.
Back to the new look. It is beautiful, intuitive and I'm sure will not be the last update in their lifetime, but aside from that, the program is on my "Apps that Change Lives" list. And that list isn't very long. Take a look at the new dashboard and contact me to get on board with the #1 Employee Rated App in the Universe.