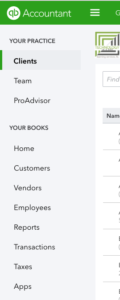 From the original DOS 1.0 version of QuickBooks, to QuickBooks Pro, Premier and Enterprise, which are all considered desktop versions, I was bound to end up on QuickBooks Online (QBO), and now I'm loving the new QBOA (QuickBooks Online for Accountants) environment. I get to be invited to my client's QuickBooks Online (QBO) data files and assist them whenever they need it. Just to keep my fingers on all versions of QuickBooks, I do my home finances on QuickBooks for Mac! Now, I'm serving up a hosted environment for some of my Little Caesars franchisees on my new Unidata designated server. Wooohooo (and thank you Richard Roppa for all of your help!)
So, that may sound like a techie's life, but it's really not. So many businesses and organizations are on QuickBooks desktop and QBO and, more importantly, so many are not and need help onboarding their company to the QuickBooks version that fits their world. Not to mention non-accountants who are charged with keeping track of their finances in a treasurer role who feel like they won the lottery when they finally find help! What version of QuickBooks they are using is the last thing on their mind. Their first question is "Why did I raise my hand to help volunteer for something that is beyond my scope and where do I find help?" Luckily, the Find a Pro Advisor website is an epic offering as it allows the end user to put in their zip code and see all of the Certified QuickBooks Pro Advisors in their area, read their reviews and take note of their certifications. I've been forever grateful that Intuit provides this for end users as I have had many people find me when they type in the zip code 48170!
QBO has been a powerful tool for my business. I love the ability to link it to other third party apps, with custom features that specialize and streamline aspects of my business. I still have a wishlist going of what I'd like to see coming down the pike, but was thrilled when Intuit recently announced that new changes were on their way! QuickBooks Online is ever changing and since I cant get announcements out fast enough to convince new users that it really is a phenomenal option, here is a link to the QBO Blog. For accountants, they should also consider learning more about QuickBooks AND how it facilitates tracking vast numbers of business models. I'm a fan of the Intuitive Accountant e-newsletter for up to the minute information on Sales Tax, Inventory and Apps that integrate seamlessly with my QBO data. Apps.com is the Intuit site that allows you to search for software as a service apps (SAAS) and they're listed by Newest, Top Rated (of course, my TSheets app is always in this list), as well as what apps work best with QuickBooks desktop versions.
To be honest, my blogs always get more press when I write about something that has life lessons or tips on how to survive your children's teen years, but nothing becomes more fearful or evokes more emotion than when someone has to start accounting for a business and is scared to death of making a mistake. For those of you who are or have felt that pain, I assure you, I can help bring peace of mind to your world. I'm just a CLICK away!