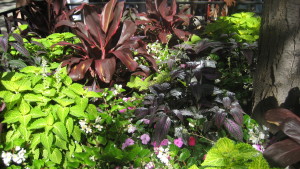 It's summertime (I think) in Michigan and although the calendar says July, I'm not quite sure the weather man has been alerted! Maybe that is why my closet still has winter clothes hanging up, with a few spring items in between. Spring and the beginning of this summer have blurred lines, but I'm determined to get to fall with some semblance of order, in my closet, my gardens AND my accounting file!
You know how that goes, right? The baker's house doesn't have bread, the graphics person doesn't have recent pictures of the kids and the QuickBooks guru hasn't reconciled her credit cards since March! I started working on my spring cleaning of the books when I realized I had been consumed with keeping my clients up to date and my own were slipping away (I need a bookkeeper!) But nonetheless, the holidays are over (Easter, Memorial Day and Fourth of July), my trips are over (Mexico, Kansas City, Vegas, Aspen, New Orleans) and I'm almost up to date on my gardens (but not my closet)
I recently took on a client where I will help her for a year as she winds down her professional practice. What I noticed is that each of her past bookkeepers left a bit of their mark on her books. The Chart of Accounts has gone unnoticed as the single most important list from a financial perspective so I cleaned that up a bit. The Item List has blown up to epic proportions, reflecting years of services that aren't even offered now. (The Item list in QuickBooks is a list of Products and Services that maps the many items in your business to a set few accounts in your financial picture) We are working on making that a more manageable list. They are now using TSheets so we can have live data of where everyone is and what they are doing, found in the "Who's Working" window. I have cleaned up her forms, including invoices and estimates, and the list of these forms that look like the movie "Girls Gone Wild". Lucky for me, all reconciliation was kept up to date and the payroll has been attached to a QuickBooks service that directly deposits their payroll checks into the bank and electronically sends their payments. It is a big job to take on a new set of books, but with a reasonable effort, the data file can hum a great tune.
So, what will give me some peace of mind with my own books? Here's a list that I'll complete and keep up so my year-end is smooth sailing:
Review Chart of Accounts for duplicates or any "Proper Names". Think of this list as a direct link to your tax return
Review the Item List in QuickBooks. It can be as detailed or as streamlined as you like, but make sure it is going to capture the information you are looking for to make good business decisions
Print one of your invoices or proposals. Give it a wicked eye look and see if it passes the visual beauty test. After all, it's a reflection of you
Do you have all of your Vendor information needed for sending out 1099's for the year end? Dont look at me like I'm nuts, now is the time to do it
Reconcile Reconcile and Reconcile. Not just your bank accounts, but all of the accounts in your Balance Sheet: Assets, Liabilities and Equity accounts
Get your paperwork in order for any major purchases and put them in a folder for your accountant. Make sure they list the purchases you've posted in your Asset accounts, such as Computer and Equipment or Furniture and Fixtures. Make sure you know the dollar value that your accountant uses to distinguish whether or not it is an asset or an expense
Is your software up to date? Are you backing up to a safe storage device and you know you can retrieve it? It's crazy to do all of that work and not keep that buttoned up
Call your favorite QuickBooks gal for more accounting info on how to do any or all of these things. I'll find the time to help you get your books in order. I'll get to mine eventually!